TO SEE IMAGES:
IF you are not seeing all of the illustrations on our website it may be due to your browser being set to BLOCK ADS. Some browsers mistakenly block pictures that are part of the information on pages within the website. If you are missing the illustrative pictures, they will become visible by finding your browser's ad blocker setting and changing it away from the block ads setting.
TO FIND MENU:
Click or Tap on the sandwich or hamburger looking thing at the top right in the header at the top of any page or post.
The Menu will slide into the screen from either the top or right side of your monitor screen, depending on whether it's a small, medium, or large size screen.
After you click or tap on the sandwich/hamburger, your screen will look something like this: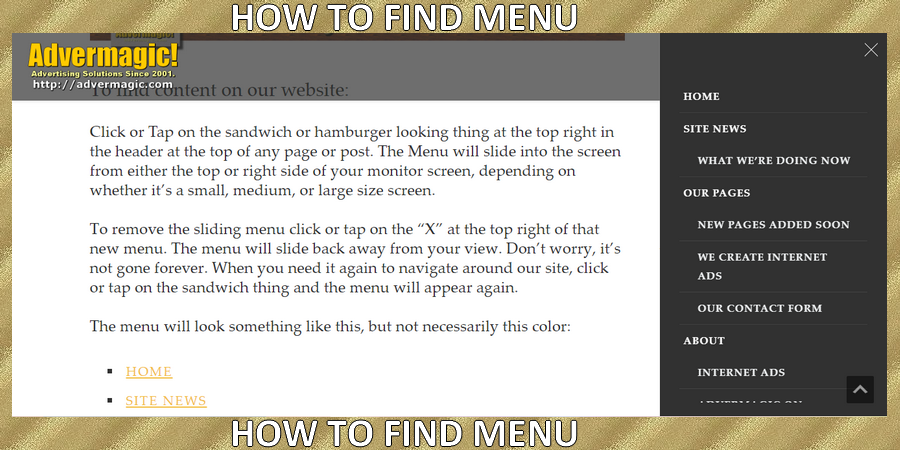 OR THIS ON SMALL SCREEN: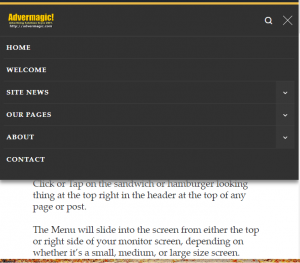 IMPORTANT: To remove the sliding menu click or tap on the "X" at the top right of that new menu. The menu will slide back away from your view. Don't worry, it's not gone forever. When you need it again to navigate around our site, click or tap on the sandwich thing and the menu will appear again.
BACK TO HOME PAGE:
If you want to go back to the home screen from anywhere on our website, click or tap on the ADVERMAGIC LOGO in the upper left in the Header at the top of every page. OR, choose HOME at the top of the MENU listing.